* Your new best friend * 

* Your child's loyal guardian * 

* Your life's companion * 

* Your hunting buddy * 

A young line of hunting dogs quickly gaining a reputation for being  

THE BEST

Anzil's English Setters 

1122 Radar Rd, Hanmer, ON. Canada P3P 0B4    705-969-2019

Email: anzilsenglishsetters@hotmail.com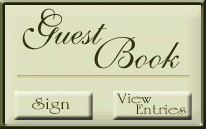 PLEASE

Click on GUEST BOOK link at left

and tell us what you think of

ANZIL'S ENGLISH SETTERS

And let us know if you have any 

questions or comments.

Add us to your 

FAVORITES 

as well to see our new pups 

and for interesting information.

THANK YOU!


This page was last updated: August 28, 2016
.Anzil's English Setters

More than

Beauty ~ Brains ~ Breeding

Let Us Be 

YOUR BEST FRIEND FOREVER

If you think

ANZIL'S ENGLISH SETTERS website needs help, 

please email us with your constructive comments 

to tell us how 

it can be improved.

Thanking you in advance 

for helping us  

serve you better.